Ideas about the ideal breast shape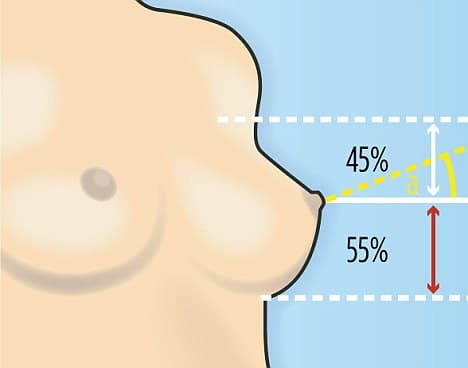 Ideas about the ideal breast shape – Dr. Shim Ching is a Double-Board Certified American Plastic and Reconstructive Surgeon.
The aim of a breast reshaping is to make the patients breast youthful and attractive – beautiful. But what exactly does 'beauty' means? Is there an 'ideal' standard to take as a comparison? Although the preferred size and shape of the breast varies through ages, continents and cultures, artists tried to paint, carve and describe the breast they thought the most beautiful.
Plastic surgeons approached this subject in a bit more scientific way. With a survey covering patients and plastic surgeons they tried to find the key features of the ideal breast shape – the form that most of them found attractive. This statistical attempt doesn't want to explain why we think these proportions beautiful.
One of the studies made by Mallucci1 has found that the breasts considered the most attractive by the panelists had four important features. The volume distribution was 45:55 in favour of the lower pole. The upper pole has a straight slope while the lower pole was round. The nipple looked 20 degrees upwards.
An other study by Lewin2 came to a conclusion that the ideal position of the nipple should be was best situated in the middle of the breast gland vertically and slightly lateral to the midpoint horizontally (the exact number were 40:60 x and 50:50 y).
The 'golden triangle' rule says that the horizontal distance between the nipples should be equal to the distance between the nipple and the jugular notch (the point where the clavicle meets the sternum)
None of the above mentioned methods are perfect for every personal anatomical variation. It doesn't mean that every women having a nice breast shape should fulfil these criteria – 'varietas delectat' (variety is the spice of life) as the ancient Latin says – but these number could be serve as a baseline for the consultation and education.
If you have any question regarding the breast reshaping procedures; call the SHAMMA Clinic to book an appointment – +971 4 349 88 00.
References:
Shapes, Proportions, and Variations in Breast Aesthetic Ideals
The Definition of Breast Beauty, Analysis, and Surgical Practice
Patrick Mallucci et al.
Clin Plastic Surg 42 (2015) 451–464
The Aesthetically Ideal Position of the Nipple–Areola Complex on the Breast
Richard Lewin et al.
Aesth Plast Surg (2016) 40:724–732