DIABETES
Diabetes Treatment in Jumeirah, Dubai
Glucose is an important substance in the body, it gives the body the energy for tissues and cells. Diabetes mellitus is a condition that is characterized by the body's inability to control blood sugar (glucose). Different types of diabetes include prediabetes, gestational, type 1 and type 2 diabetes. Pre-diabetes is reversible. Type 1 develops at any age but manifests during adolescents and childhood. On the other hand, type 2 diabetes develops in adulthood but may manifest earlier. Gestational diabetes develops in pregnancy.
Diabetes Diagnosis
Tests to Diagnose Diabetes. There are two different tests your doctor can use to measure your blood glucose to determine if you have pre-diabetes or diabetes: the fasting plasma glucose test (FPG) or the oral glucose tolerance test (OGTT).
Signs and Symptoms
The signs and symptoms vary with the type of diabetes and whether one's blood glucose levels are elevated or below the normal range.
Frequent micturition
Increased thirst
Weight loss that is unexplained
Extreme hunger
Ketones in urine due to muscle breakdown since glucose is absent in the body
Irritability
Fatigue
Blurred vision
Slow-wound healing
Infections that are frequent
Book an appointment with a family doctor if you observe any of the above signs and symptoms to seek a treatment for diabetes.
Causes of diabetes
Insulin functioning: The pancreas produces insulin, which is a hormone that enables glucose metabolism, it hence works by reducing glucose levels in the blood. The level of blood glucose reduces hence reducing the insulin production.
Glucose is a cell energy source to enable it function. Glucose is either derived from the liver or the food one takes. Low glucose levels in the blood causes the release of insulin which breaks glycogen stores to glucose.
Type 1 diabetes: The etiology of the condition is unknown, but the theory is that the body's immune system attacks the pancreas cells that produce insulin. Insulin production is reduced and is not able to sustain the body needs. Environmental factors and genes are an additional factor that affects the insulin producing cells.
Type 2 diabetes and prediabetes: prediabetes leads to type 2 diabetes. The body cells become resistant to insulin in the body.
Gestational Diabetes: It is a type of diabetes that happens during pregnancy. Hormones produced by the placenta create resistance to insulin the body produces. The pancreas is able to fight the resistance by producing more insulin but at times it is not able to keep up.
Diabetes Treatment and Management
Controlling blood sugar (glucose) levels is the major goal of diabetes treatment, in order to prevent complications of the disease. Type 1 diabetes is managed with insulin as well as dietary changes and exercise. Type 2 diabetes may be managed with non-insulin medications, insulin, weight reduction, or dietary changes.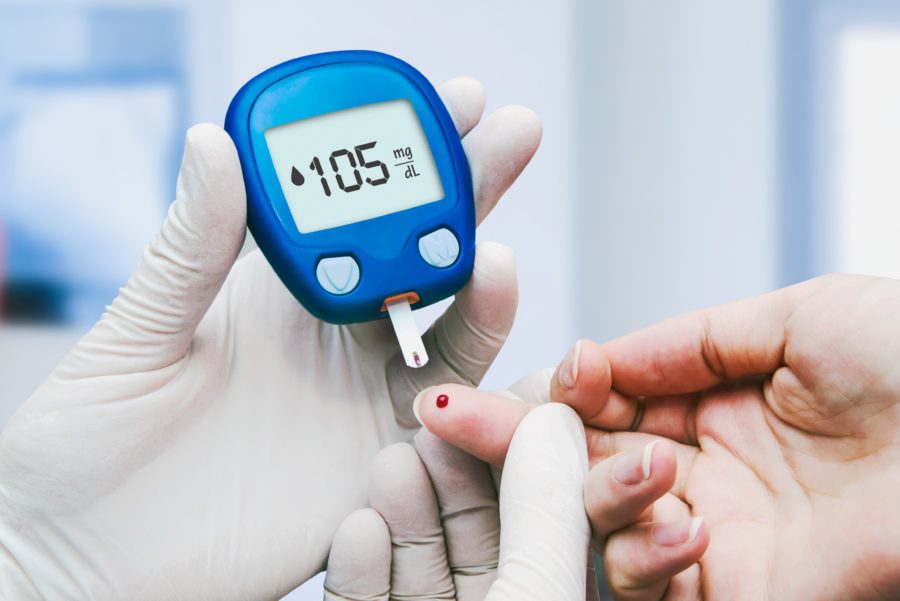 What You Can Do
Watching one's weight and lifestyle to ensure the risk factors are significantly reduced.
Eating a well-balanced diet to ensure one does not overwork the pancreas.
If one is diabetic, knowing the signs of hyperglycemia and hypoglycemia and intervening appropriately.
Regular blood glucose check-ups to ensure one is not diabetic.
What We Can Do
Diabetes treatment and management at our clinic in Dubai includes:
Taking random blood sugar tests to determine the blood glucose levels.
Performing advanced tests for diabetes such as glycated hemoglobin levels.
Offering diabetes medication both oral and insulin.
Proper follow-up of clients and determination of the effectiveness of medication given.
Health education on lifestyle change and issues such as the diabetic plate when eating food.
Teaching on blood sugar monitoring and its importance.
Teaching on ways to manage hypoglycemia and hypoglycemia.
Offering hand bands identifying a person as a diabetic in case of an emergency.
Consult the doctors at SHAMMA Clinic in Jumeirah, Dubai to effectively diagnose and treat diabetes. Book an appointment with our expert diabetes doctors today.