Ingrown Toenail
Ingrown Toenail Treatment
Ingrown nails removal will imply very painful, moreover, they can grow infected easily without timely treatment. It does not depend on the age it can occur at whatever age and is a common ingrown toenail caused by bad toenail cutting either in some time damage the nail. 
How to remove ingrown toenail? 
At the early toenail treatment can be less discomfort, simple and painless procedure. When the ingrown nail becomes severely infected, then will be a short procedure under professional anesthetic is required to ingrown toenail removal.
What is an ingrown nail?
When your nails edges and corners grow in the skin from the sides of the nail then ingrown toenail grows and occurs. In various cases normally big toe gets infected an ingrown nail.
If ingrown toenail will cause complexities then maybe patients needed to consult any professional  Podiatrist for ingrown toenail treatment. If you are a diabetes patient then the risk of complications is higher if you have diabetes or other conditions that cause poor circulation.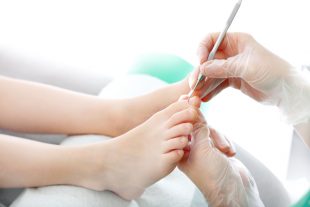 Ingrown Toenail causes
Cutting toenails mistakenly (cut straight beyond, as angling that front of the nail can encourage the nail to grow into the skin)
Irregular toenails, Bad posture, also Genetic predisposition
When Footwear that places a lot of force at the big toes, While socks also stockings that will too tight either shoes that are also tight, flat for your toes.
Toenail injury, and stubbing your toe, fall something heavy on your feet, maybe
kicking a stone or big object.
More aged people mostly at higher risk because toenails thicken by the age.
Irregular foot hygiene like not following your feet clean.
Dry ingrown toenails might be more usual in people including sweaty feet, such as teenagers.
Exercises in which you regularly kick an object or put pressure on your toes or foot for a long duration can cause toenail damage and increase your risk of ingrown toenails like Ballet, football, kickboxing, soccer.